Nowadays, households can get small sums of short-term credit in various ways, including a payday loan and pawn shop loans. Low-to-medium income families most commonly use these AFSes (Alternative Financial Services). The borrowers with limited borrowing options can bank on these lendings whenever they feel the pinch. If you don't know which type will benefit you most, read on!
We have compiled sufficient data to walk you through the complex procedure of choosing between pawnshop loans or payday advances. Let's start with answering the most common questions the borrowers usually have in mind when considering these lending types:
What Is a Pawnshop Loan?
The phenomenon of pawnbroking has existed since ancient times. The main idea of pawnbroking is lending the funds in exchange for possession of the collateral. In other words, if you have spare funds, you may provide them to borrowers by using their collateral as a security. Nowadays, the scheme of pawning works in the same way. People borrow funds and trade for cash based on their items. People are used to pawning valuable jewelry, electronic devices, and totally everything that gets extra money. For getting a pawnshop loan, you do not need to provide a paycheck or have a good credit rating. An essential thing that pawnbrokers pay close attention to is the collateral that acts as a security for paying back the borrowed amount. However, if the borrower cannot pay the pawnshop loan, the pawnbroker is entitled to keep the pledge and sell it to cover the losses.
How Do Pawn-Shop Loans Work?
In most cases, pawnbrokers do not inform the borrowers about the hidden fees or the schedule of payments. Sometimes people are paying the minimum monthly fee for pawnshop lending products; however, they don't even understand that it is the only payment of interest but not, in any case, payment for the principal amount. Here comes to be apparent the main problem linked to these borrowing tools. If you are making payments only for monthly fees, it means that the principal amount remains unpaid, and you have to pay for it in any case. Because of the unawareness, the borrowers may take a more significant financial burden than they may cover.
Everyone knows that borrowing or lending funds may include huge risks. Pawn stores need to have insurance because the borrowers may never get their collateral back. The pawnbroker may encourage you to take a larger amount than you need. They may also request more valuable items for possessing. Pawnbrokers try to take things with high liquidity to cover their losses in case of non-payment.
Pros and Cons of Pawnshop Loans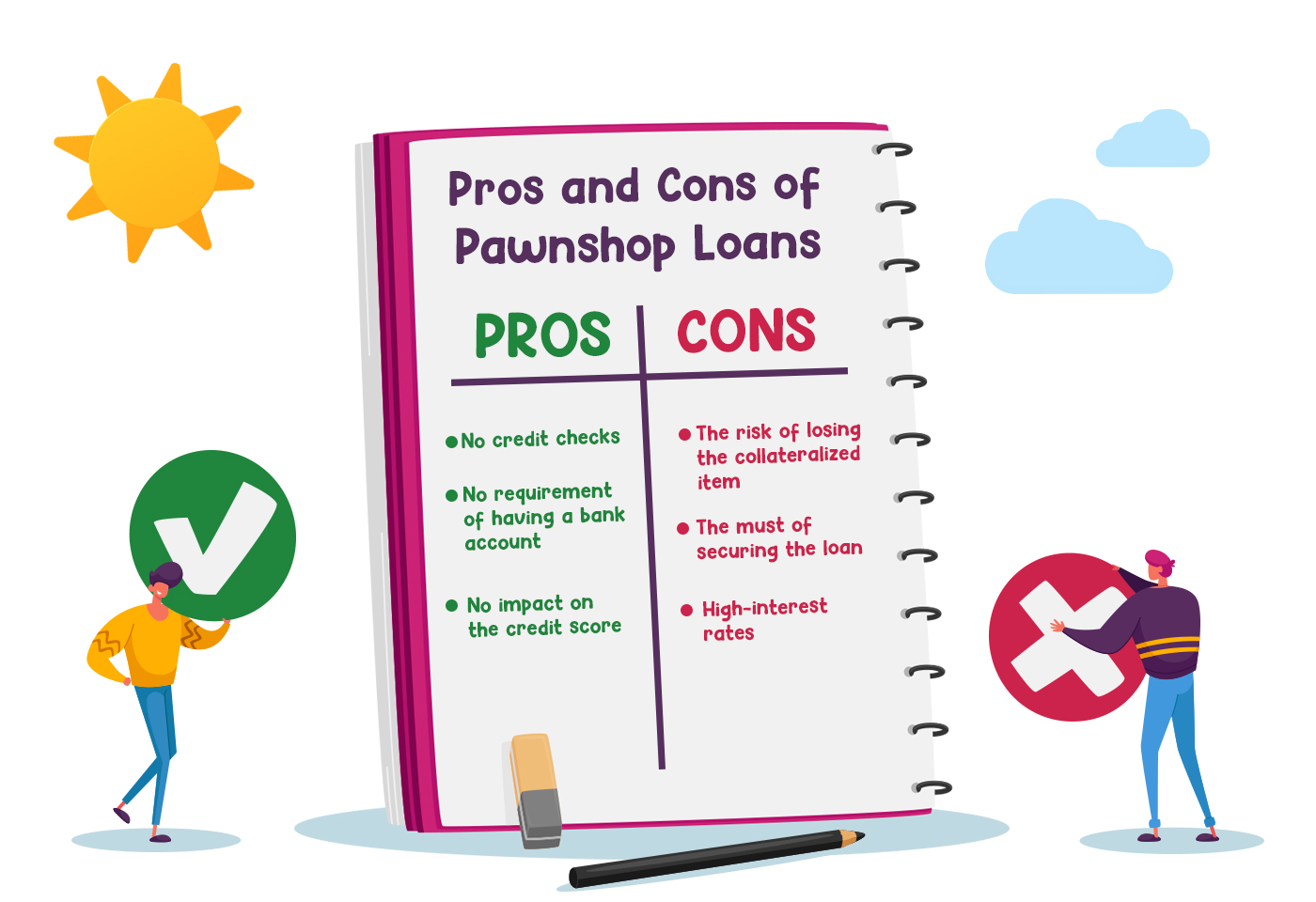 Highlighting the pros and cons of pawnshop loans will help you better understand these lending options.
The Pros
No credit checks: If you wonder, "do pawn shops give loans to bad credit borrowers" here is the answer: There is no bad credit score problem with pawnshop lenders. Pawnshop loan requirements are not strict, and they are available to adults, having collateral (jewels, firearms, stocks) to secure the borrowed money.
No impact on the credit score: Though various AFSes carry out soft pulls to evaluate your creditworthiness, pawnshop cash advances may not even affect your credit rating. If you do not repay the money, the pawnshop will not refer you to a debt collector, who will report your account to the credit bureaus. They'll simply sell your collateral instead.
No requirement of having a bank account: Compared to other short-term lending options, pawnshop finances are available without a bank account.
The Cons
The risk of losing the collateralized item: One of the significant disadvantages of pawnshop lending is the risk of losing the secured property in the case of credit defaults.
The must of securing the money: The borrowers can only take advantage of these quick financial tools if they have some assets to put as collateral. These credit types are not provided based on having a perfect credit score.
High-interest rates: These borrowings have high-interest rates compared to other lending types. Some pawnshops additionally charge extra fees for services like storage, insurance, or renewing the credit for a new period.
Payday Advances: What Are They and How They Work?
In contrast to pawnshop loans, online payday advances have no requirement of securing the borrowed small amount. They are available online, and you can request them from literally anywhere, just having an Internet-supported device. Furthermore, a payday loan is deemed a short-term obligation that must be paid back assets to the next paycheck; meanwhile, pawnshop loans can have a more extended repayment period based on the agreement between the lender and the borrower.
These loans are processed very quickly and take several steps to complete:
Fill in the required fields
Submit the request
Wait for approval
Sign an agreement
Get your money
Pros and Cons of Payday Advances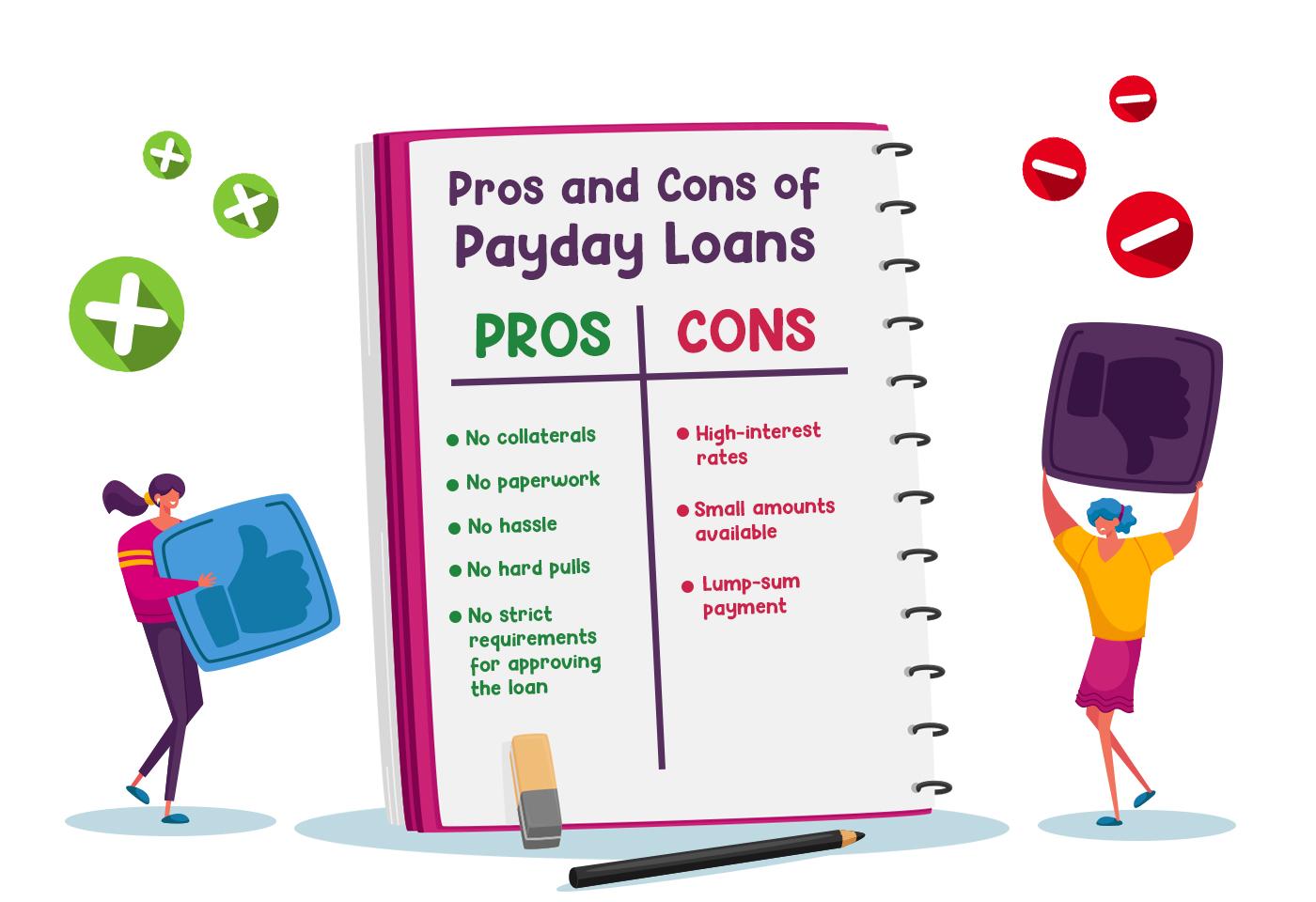 Pros
No Collaterals: In contrast to pawnshop lendings, these small borrowings are available without the need to put any property as collateral.
No paperwork, no hassle: The processing of payday advances is hassle-free. You don't have to worry about staying in long queues in the banks carrying a bunch of documents.
No hard pulls: Payday lenders do not carry out hard pulls to assess borrowers' creditworthiness. Thus, they are available to all credit scores, besides requesting these financial products won't affect their credit score since the borrowers repay the loan on terms agreed.
There are no strict requirements for approving the loan: Though the requirements vary from lender to lender, the common ones include providing personal data and a checking account.
Cons
High-interest rates: Having high-interest rates may be wholly justified as this lending industry is very risky for the lenders. Compared to the collateralized lending types, the latter doesn't guarantee that the loan will be compensated. What's more, the payday clientele usually embraces the risky sector of borrowers (the ones with bad credit ratings).
Small amounts available: These borrowings are available in small amounts that do not exceed $2500 in most cases. These online lending are designed to solve big-dollar issues.
Lump-sum payment: Payday advances require lump-sum payment that is a payment made all at once, as opposed to ones made in installments. A lump-sum payout may not be the best option for every borrower, as it may be easy for them to repay the borrowed sum in installments.
To Sum It Up
People tend to believe that if they have a low credit score or bad credit history, they are no longer eligible for getting a small loan when an emergency springs up. So, be aware that pawn and short-term loans might provide you with quick financial assistance whenever facing financial troubles. However, the borrowers should remember that these borrowing tools are fraught with financial risks. An online loan and pawn shops may not be long-term answers. A pawn loan may be a better option if you need money quickly and for more extended repayment periods and have valuable assets to put as collateral. In comparison, payday advances come in handy when you seek short-term financial assistance and don't have collateral.