All types of digital lending (payday, installment, personal, and bad credit loans, cash advances) are growing in popularity nowadays. While these online lending products work slightly differently, they share common features: ease of acquiring quick cash and high-interest rates. What is more, these borrowings may not only target people with bad credit scores but also have been extensively mis-sold.
Thus, these pricey lending tools, if mis-sold, can lead you into a further debt circle. Be aware that if you cannot repay the borrowed sum or the creditor fails to assess the circumstances of taking avail of unaffordable lending, you may be entitled to recoup $100 or even a $1,000 refund. Wonder what the term "unaffordable lending" is and in what cases may it be labeled so? We have got you covered!
The Cases of Mis-Selling Payday Loans
Borrowers can request a refund in case of an "unaffordable loan," even after the borrowed cash is repaid. Prior to lending you the required money, there are certain things that the creditor should do:
Check the borrowers' current financial situation to ensure that you will afford to pay the money back.
Present the total cost for the borrowed sum.
Inform the borrower that payday loans should not be utilized for long-term borrowing or if they are in financial trouble.
Explain what the borrowers should do if they have a complaint.
Provide a credit agreement that transparently covers all the points regarding the loan.
Thus, the creditor must analyze your financial situation to guarantee that you can pay the cashback together with its associated expenses. So, if the lender offers you $1000 in the case your monthly income hardly reaches $500, it is a typical case of misselling the credit. In addition, the creditor did not make it evident to you how much it would cost you to repay the borrowed cash in a lump sum. Failing to inform you about the short terms of repaying the loan, is another example of mis-seling it. The credit agreement should also include a section that explains how to file a payday loan refunds complaint. The absence of such a section may also be considered a credit mis-sell.
Payday Loan Claims
Be aware that if your lending entity follows all the lending rules, it is not considered misleading. However, if you believe your creditor has broken the Good Practice Charter or FCA (Financial Conduct Authority) requirements, here's what you may do to seek payday loan compensation. The payday compensation procedure comprises several steps that are described below:
Contact Your Lender
It would be better to contact your creditor first and work things out. Your complaint should entail all the issues embracing payday loan refunds, repayment plans, unaffordable interest rates, and rollovers. Within five days of receiving your complaint, the lender must acknowledge it. Then, notify you and keep you updated on the progress.
File a Complaint Against the Lender
Many specialized organizations may help you with submitting the complaint against the lenders; however, be informed that it is not free: you should pay compensation after you reach payday loan refund success. You may also do it on your own by sending an email or writing a letter focusing on "unaffordable loans" and requesting total payday loan compensation. Usually, it is up to you to agree with the creditor's decision or not. If you think that the lender's offer is much less than you targeted, you are free to request more. In general, if a lender rejects the complaint or you are not okay with the second offer of the lender, you should apply to the CFPT Ombudsman office. Lenders are deemed to escape this phase because they pay federal fees for each complaint, whether it is accepted.
3. Apply to CFPT Ombudsman
After sending the email or the letter, you may wait for eight weeks, and if you do not receive feedback from the lender, you may inform the CFPT Ombudsman about the issue. Lenders also are obliged to notify the borrowers if the complaint is rejected. However, keep in mind that you should only consider doing so as a last option and seek guidance beforehand.
After receiving your written complaint, the ombudsman will evaluate if the paycheck lending was unfair, and your payday loan claims are warranted. In most mis-sold instances, this entails a refund of any interest, fees, or charges you may have incurred.
Conclusion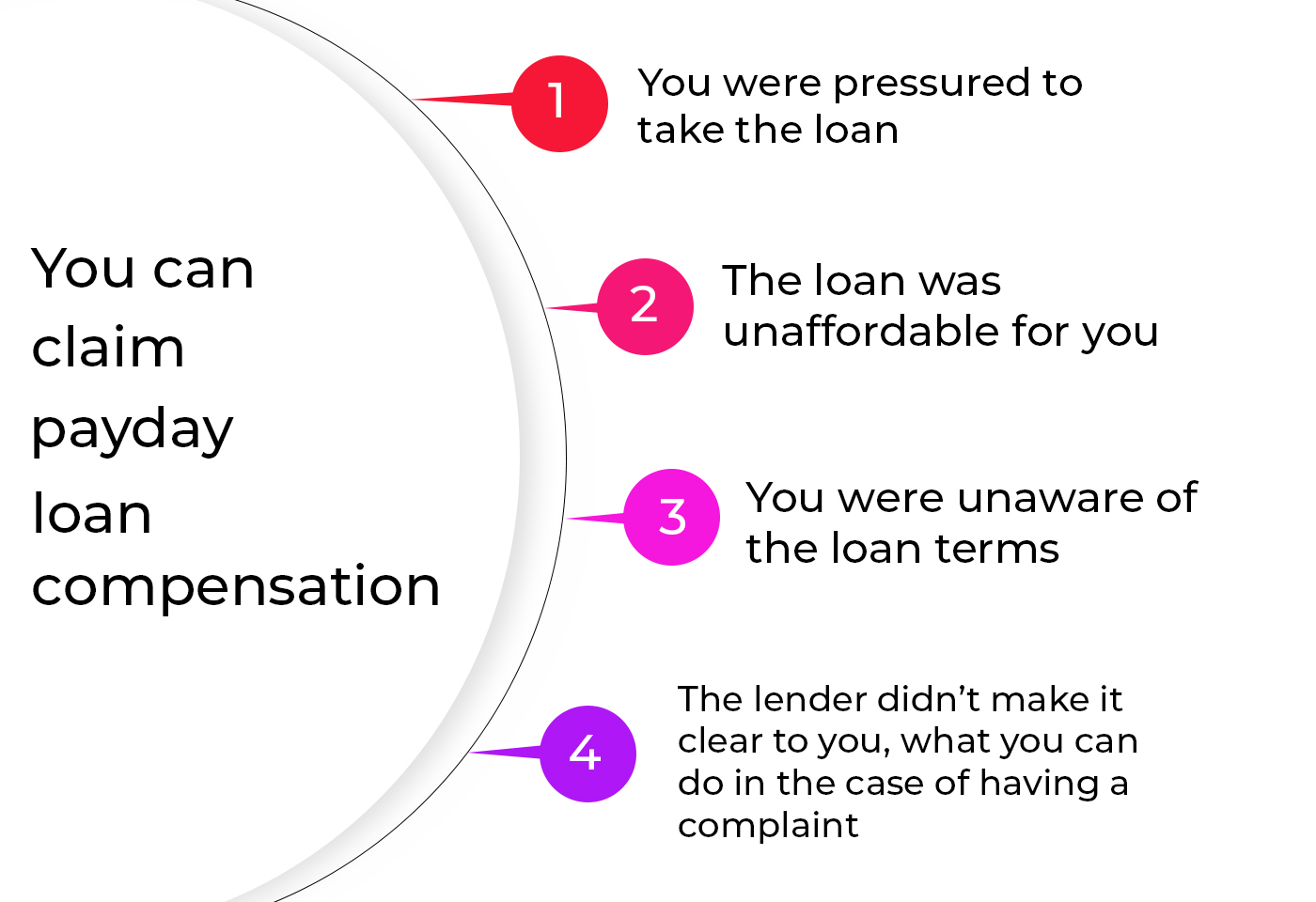 Many people feel that online paycheck advances might be a "lifesaver" for borrowers with low credit scores. This mistake stems from a lack of knowledge about the lending industry. Short-term loan-providing companies have built platforms where borrowers may learn about the lenders' offers. Borrowers should carefully read the offers, inquire about every part of the interest rates and payback requirements, and only then should they request cash. Understanding the complexities of these lending documents might help customers avoid "unaffordable" lending, and there will be no need to reclaim payday loans. However, if you believe you were a victim of unaffordable lending and the payday lender does not follow the guidelines, you can request a refund by following the processes outlined above. If you are unable to resolve the disputes with the lender, you may take the lender to court as a last resort. As you can see, not only may the lender take the borrower to court in the event of a credit failure, but the contrary is also a typical occurrence.