Nowadays, there are multiple ways to deposit money into someone's account. To choose one that works best for you, you need to consider several factors, including the amount you're transferring and the fees you're willing to pay.
In this article, we are going to discuss MoneyGram, the world's second-largest money transfer service. We have made a comprehensive assessment of its services based on a range of variables. So, let's dive in!
MoneyGram: Historical Overview
MoneyGram International was founded in 1988 by the merger of two companies: Minneapolis-based Travelers Express and Denver-based Integrated Payment Systems Inc. In 1998 Travelers bought MoneyGram, then it became a separate company in 2004 and became MoneyGram International of today.
By 2006, the company's worldwide reach had grown to Asia-Pacific, Eastern Europe, and Central America. In addition, MoneyGram now offers bill payments and online money transfers, among other services.
In 2020, Digital Financial Services LLC and MoneyGram began a collaboration that resulted in the simplicity and convenience of international money transfers for eWallet users in over 200 countries worldwide.
What Is MoneyGram, and How Does It Work?
MoneyGram is a financial corporation that provides money transfers, money orders, bill payments, and prepaid card reloading services in the United States and throughout the world. These services may be helpful for persons who do not have a bank account or seek alternate transfer methods.
MoneyGram transactions can be completed online, in-store, or through the app. In terms of saving time and money, online and in-app transfers are the most convenient. Transferring money to the receiver's bank account via online or in-app transfers is simple and does not necessitate any special abilities. After a few steps, the transfer is complete:
Log in or register (if you don't have a MoneyGram account)
Enter the details of the payee or select from your account.
Write the amount you want to send
Confirm the payment method (whether you want to pay with debit or credit cards or a bank transfer)
Double the data you provided and send. The payee will get the funds deposited into their bank accounts.
The MoneyGram Requirements to Send & Get Money
No matter whether you are using MoneyGram Transfer services online or in-person, you will need to provide:
Your ID number (driver's license also works)
The payee's full legal name
The payee's bank account number (in the case of transfers to the receiver's bank account)
The payee's mobile number with an international dial code (in the case of transfers to a mobile wallet)
If you are receiving money in person, you will need to:
Verify your identity (provide ID, driving license, or passport)
Present the reference number
Why Choose MoneyGram? The Perks Explained
MoneyGram is best for customers seeking a wide range of money transfer alternatives to local and foreign destinations, either online or in person. Here is why you may want to choose MoneyGram:
Fast Transfers in Over 200 Countries
MoneyGram has a worldwide network of 350,000 agency locations in more than 200 countries. Customers seeking urgent financial transactions can benefit from MoneyGram, as many transfers are completed instantly.
MoneyGram has a MoneyGram Plus Rewards Program that allows to complete transactions quickly, make personalized, limited-time deals, and get notified when the money is picked up. This program also helps you save money. While MoneyGram's rates may not be the lowest, you will get discounts on your transfer fees (20% for the second transfer and 40% for every fifth transfer.) Thus, a MoneyGram Plus Rewards Program can be a very convenient tool for frequent customers.
Direct Fund Transfers to a Bank Account or Mobile Wallet
MoneyGram offers simple, fast, and convenient transfers to a bank account or a mobile wallet. In the case of transferring funds to the mobile wallet, you need to provide the receiver's full name and cellphone number.
The Downsides of MoneyGram
Like any other financial service, MoneyGram also has some cons:
Online transfer of more than $10,000 in a single transaction is impossible. However, the service allows sending money of up to $10000 within 30 days.
MoneyGram fees begin at $2. Fees vary according to location, amount, payment method, and other variables. Customers should be informed that, in addition to transfer costs, they may be required to pay extra fees (international currency exchange rates that are passed to them, for instance.) Thus, MoneyGram fees consist of transfer fees, third-party charges, and exchange fees.
Higher Fees for in-person Transfers
If paid in person at the MoneyGram location, the transfer fees maybe $5.99 for each transfer ($1-$10000). In case of paying from a bank account and $13.99 if paying with a debit or credit card.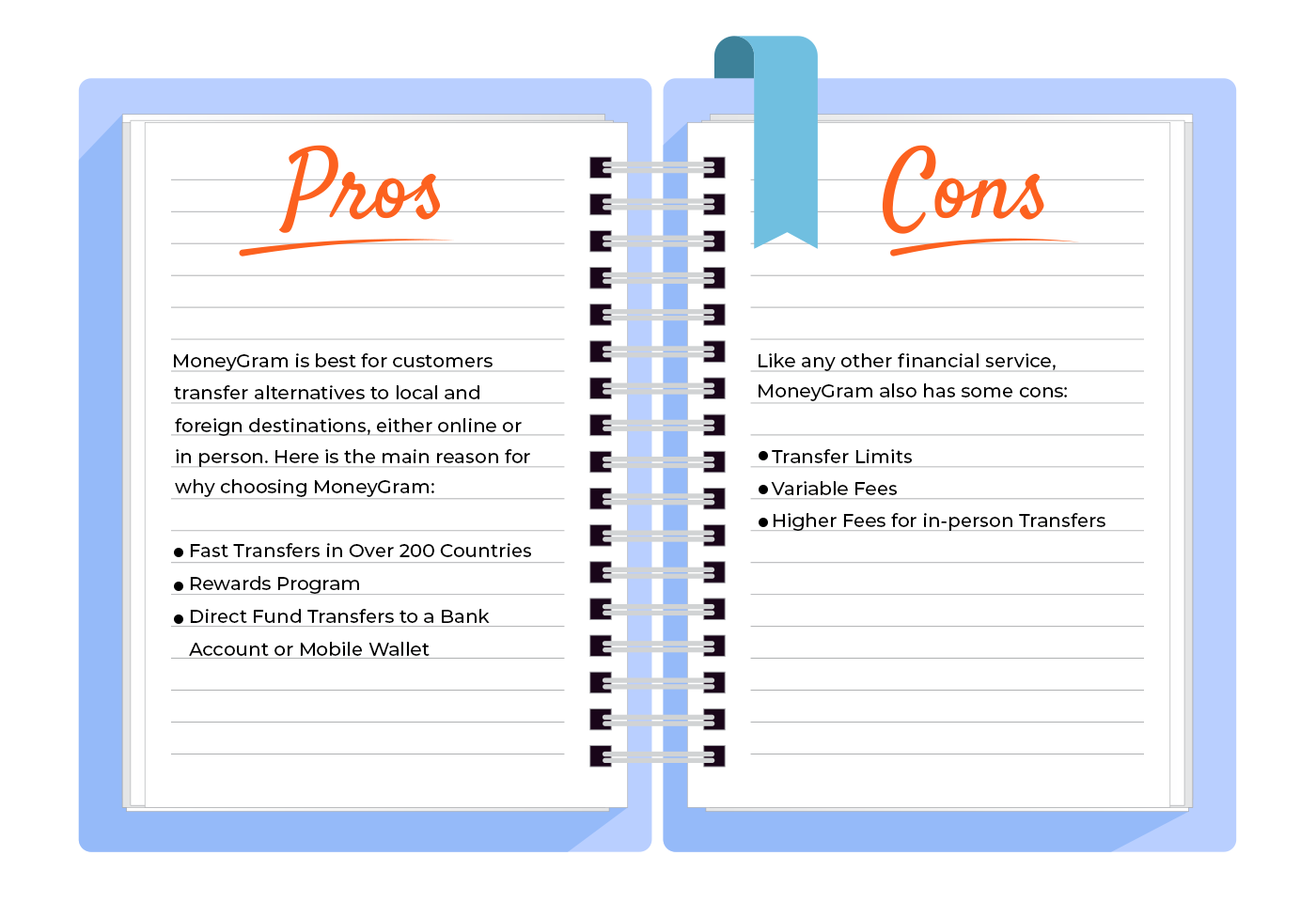 MoneyGram VS Western Union
MoneyGram and Western Union are well-known international money transfer services. It is difficult to say which of these companies is the best because the only difference between them is that Western Union (500000 agencies in 200 countries worldwide) is more extensive than MoneyGram (350000 agencies in 200 countries worldwide). Its name is instantly recognized worldwide due to its former monopoly in the telegraph sector. These firms have variable costs for their services, which vary depending on the kind of transfer, destination, and the amount transferred.
The Bottom Line
Even in our digital age, when financial transactions are automated, keeping cash on hand may be necessary for some situations. As a result, money-transfer providers such as MoneyGram and Western Union are extending their presence worldwide.
Money transfers allow you to immediately send and receive funds to and from your bank account. Even if you don't have a bank account, you can receive the money you need at any location where these services are offered.